India cabinet approves major increase in traffic fines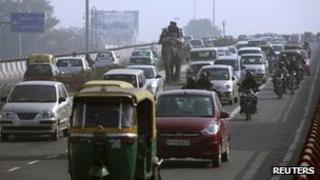 The Indian cabinet has approved a steep increase in fines for traffic offences in a bid to crack down on chaotic and indisciplined driving.
The government has also announced a substantial hike in compensation for accident victims.
More than 130,000 people die in road accidents in the country every year.
Campaigners say the exponential rise in the number of vehicles and a lack of road safety education has made Indian roads the most dangerous in the world.
At any given time, pedestrians compete for space with buses, cars, trucks, three-wheel auto-rickshaws, hand-pulled carts and even cows and elephants.
Authorities said on Thursday the Motor Vehicle Act would be amended to include the new increased rates of fines.
"The union cabinet has approved the amendments to the Motor Vehicle Act for harsher punishments for offences like drunken driving and violation of traffic rules and also increased compensation in accident cases," Press Trust of India quoted an official as saying.
He said the increased fines were proposed mainly to deal with drivers who violated traffic rules repeatedly.
Report said the compensation for fatal accidents had been raised to 100,000 rupees ($2,041; £1,266) and to 50,000 rupees in cases of serious injuries.