Rise in Indian railway fares dropped by new minister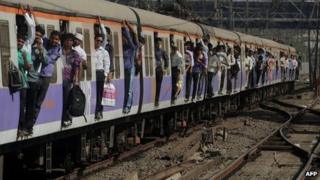 India's new Railway Minister Mukul Roy has dropped plans to raise most fares announced by his predecessor last week.
Mr Roy said there would be no increase in rail prices except in first and second class air-conditioned coaches.
The hike in rail fares was the first in nine years, but was strongly opposed by the former minister's own party and led to his resignation.
India's state-owned railway operates 7,000 passenger trains and carries some 13 million passengers daily.
'Anti-poor'
"I intend to give relief to the already burdened common man," Mukul Roy told parliament.
Mr Roy dropped plans to raise fares by a maximum of 30 paisa ($0.006; £0.0038) per km in all class of railway travel except in first and second class air-conditioned carriages.
The raise was aimed at increasing safety and improving conditions on the overburdened rail network, which is the main form of travel for the majority of the country's population.
But the ex Railways Minister Dinesh Trivedi's party, the Trinamool Congress, an ally in the Congress-led government rejected the fare increases and forced Mr Trivedi to step down from his post.
The leader of the Trinamool Congress, Mamata Banerjee, said they were "anti-poor".
Indian Railways is one of the world's largest employers, with more than 1.4 million people working for it. It's also one of the busiest networks, with many accidents.
A recent official report revealed that nearly 15,000 people die every year crossing tracks - a figure that the government described as a "massacre".