India suspends Posco steel plant environment licence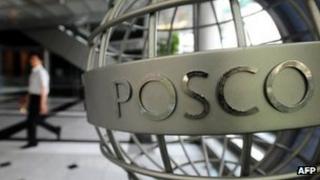 An Indian tribunal has suspended the environmental licence given to the South Korean company Posco for building a steel plant in the state of Orissa.
The National Green Tribunal also ordered a fresh review by the Ministry of Environment and Forests.
The plant has faced stiff opposition from local people campaigning to save farmland and woodland.
A government panel had been pushing for the licence to be scrapped, but it was conditionally approved in January 2011.
The ministry had spelt out 28 "extra conditions" for the steel plant and 32 conditions for a port which is to be built in the area.
"The environment clearance granted on 31 January 2011 to the project shall remain suspended till a review and appraisal is done by the ministry," the tribunal ruled.
It said that the agreement signed between the Orissa government and Posco was for the production of 12 million tonnes of steel a year, but the environment impact assessment report had been prepared for only one-third of that.
It said the clearance was suspended until the assessment was done for the entire project.
The project was conceived in 2005 and is India's single biggest foreign investment.
Based in the port city of Paradip, it is expected to create nearly 50,000 jobs.
But it has been opposed by many groups who argue that Posco will exhaust Orissa's iron ore resources in two decades while creating lasting environmental damage.