India's Kingfisher airline to resume paying staff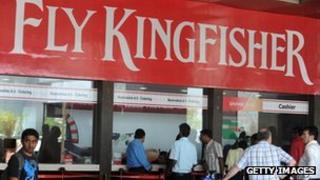 India's Kingfisher airline has said it will resume paying its staff beginning this week after tax authorities unfroze its bank accounts.
Chairman and managing director Vijay Mallya said all junior staff would be paid by Wednesday and engineers and pilots would be paid early next week.
The cash-strapped airline's bank accounts were frozen in February for non-payment of taxes.
The airline has cancelled dozens of flights recently due to a cash crunch.
It recently suspended all international operations and cut down on local routes.
In a letter to Kingfisher employees, Mr Mallya said the bank accounts were unfrozen on Sunday after the airline paid a total of 640m rupees ($12.6m) to tax authorities.
"My only focus now is to start paying your seriously overdue salaries," he wrote.
"All junior staff will be paid before Easter, that is, on Wednesday 4 April. All pilots and engineers will be paid on Monday 9 April and Tuesday 10 April," the letter said.
Kingfisher has been struggling to maintain its day-to-day operations after banks refused to lend more to the debt-laden carrier.
It owes money to airports, tax authorities, lenders and its own staff.
Last month, the airline was suspended by the International Air Transport Association (Iata) from using its clearing house.
The airline has never made a profit since it was launched in 2005.