India cricket: IPL's legacy as season five begins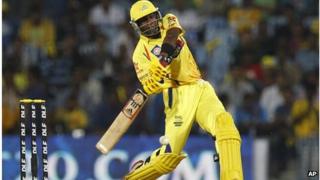 In 2008, the Abu Dhabi United Group bought Manchester City for $330m, securing a historic Premier League football team that is more than 100 years old.
In 2010, Sahara India forked out $370m for Pune Warriors, a cricket team that did not exist until it was bought at an auction in a league that was just three years old.
And that is the essential contradiction of the Indian Premier League (IPL), this lack of a context. It is the act of paying money which validates everything - from the worth of a player to the cost of a team to the value of the league.
How do we know that Ravindra Jadeja is worth $2m? Because Chennai Super Kings bought him for that amount at this year's auction.
What about the IPL itself? It was valued at $4.13bn in 2010 by a branding consultancy (which presumably included its fees in the valuation). A year later, it was $3.67bn.
Is that true? We will know only if someone pays that amount to buy it out lock, stock and Chris Gayle's bat. How do they arrive at these figures? Why not 8.98bn, or 650tn? They are equally meaningless, after all. The Australian writer Gideon Haigh calls it "asset valuation plucked from thin air".
Yet the IPL somehow survived its contradictions in the first four years.
Court cases, the resignation of a Union Minister amid allegations of favour-mongering, the sacking of Commissioner Lalit Modi - who reputedly had four live cameras trained on him at every match, the scandal of the supine governing council and embedded television commentators all brought under one roof what the novelist Amitav Ghosh has called India's national obsession - Cripoliwood - cricket, politics and Bollywood.
Court jesters
Scandals have worked well for the IPL, keeping it in the public eye.
The habit of making up rules on the fly, financial opaqueness, cronyism, disregard for probity and disdain for public opinion are only some of the IPL's traditions.
Another one is conflict of interest. The board president is also a team owner, the chief selector is a brand ambassador. There is a pathetic band of court jesters on television paid to sing its praises.
On 4 February, the day of the IPL auction (other sports have action replays, the IPL has auction replays), South African Richard Levi was a relative unknown, and went unsold. Then he made 117 in 51 balls with 13 sixes and a strike rate of 230 against New Zealand and suddenly became hot property. Mumbai Indians bought the 24-year-old.
Levi might emerge as a star of IPL's fifth season. Mumbai Indians, who have probably spent more money in the last four years than other teams, need the trophy in the cupboard to show for their efforts. They got Herschelle Gibbs cheaply and plugged one of the few holes in their line-up by signing up wicket-keeper Dinesh Karthik.
Only three teams have won the title, and others with massive investments have changed personnel, administration or, as in the case of Kolkata Knight Riders, their logo, in a bid to tilt the balance. KKR felt that the black in their original logo was a harbinger of bad luck and have done away with that colour. More pragmatically, they signed up New Zealander Brendon McCullum, the explosive batsman and wicketkeeper.
Delhi Daredevils paid $1.4m for Sri Lankan star Mahela Jayawardene and acquired Kevin Pietersen from Deccan Chargers. Royal Challengers Bangalore picked up Muthiah Muralitharan and paid a million dollars for home boy Vinay Kumar while King's XI Punjab bought former Pakistan all-rounder Azar Mahmood, 37, who currently holds a British passport.
IPL 5 assumes significance because the world T20 championship is scheduled for September in Sri Lanka. India won the title in 2007 and changed the face of cricket. The IPL was established the following year.
Entertainment or sport?
The tournament has pushed the fringe performers, the obscure names onto centre stage. More significantly, it has given them financial security.
We only need to remind ourselves that Ravindra Jadeja's father was a nightwatchman, and it will be difficult to begrudge him his $2m stepladder out of hunger and deprivation.
Fast bowler Umesh Yadav's father is a coal miner, and Yadav himself nursed an ambition to be a policeman. No more.
The millions have made a difference to Mumbai left arm spinner Iqbal Abdullah, the son of a grocer, and scores of lower-middle-class boys who now talk of buying yachts and cars having first settled their families in posh houses and in many cases convinced their parents to retire from work.
Whether the IPL is entertainment or sport may be disputed.
There might be confusion over the roles of those who run it and some of the figures bandied about might lack credibility. But of one thing there is no doubt. It has changed the lives of players, scooped some of them up from near-poverty and deposited them close to the top of the food chain.