India's Rahul Gandhi holds meeting on election debacle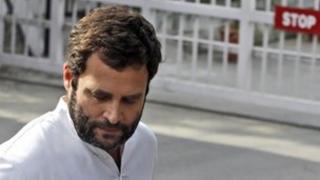 Senior Congress party leader Rahul Gandhi is holding a two-day meeting in the Indian capital, Delhi, to analyse the party's debacle in the recent Uttar Pradesh state elections.
The party suffered a major setback in the politically crucial state, winning fewer than 30 of the 403 seats.
Mr Gandhi led the party's campaign from the front. He later took responsibility for its poor performance.
The polls were seen as a litmus test for national elections due by 2014.
Congress's newly-elected legislators in Uttar Pradesh are expected to attend the session on Thursday and Friday.
Many of the losing candidates have also been called in to explain their loss.
Uttar Pradesh, in northern India, has a population of more than 200 million people, and it sends the largest number of 80 MPs to parliament.
The Congress had hoped that Mr Gandhi would deliver a victory in Uttar Pradesh that would revive the flagging fortunes of India's ruling party, dogged by high inflation, a slowdown in economic growth and allegations of corruption.
He is widely tipped to be India's next prime minister.
At the Delhi meeting, the party is expected to discuss ways to fix things in time for the 2014 elections.