Indian state may drop Marx and Engels in schools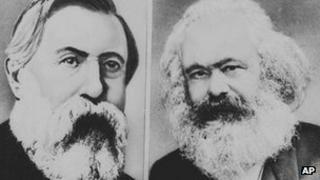 The Indian state of West Bengal, ruled by a communist party for three decades until last year, may now drop the study of Marxism's founders.
The head of a committee revising the state's high school curriculum said an undue emphasis was placed on Karl Marx and Friedrich Engels in history texts.
Avik Majumdar said 20th Century history, democratic movements and the Chinese revolution would be added.
The committee is to submit its recommendations next week.
"The committee has done away with excess stress on any particular topic including Karl Marx," said Mr Majumdar, the committee's head, according to The Hindu newspaper.
He said the committee was also recommending the teaching of Latin America's history and the anti-apartheid movement in South Africa.
Mr Majumdar said it was unfair to say that communism was being totally expunged from the text books.
"Lenin is still relevant for his contribution on imperialism. So are a few others," the Times of India quoted him as saying.
The Left Front alliance, led by the Communist Party of India (Marxist) governed West Bengal for 34 years until last year, when it lost elections to the Trinamool Congress.
Marx and Engels wrote the Communist Manifesto in 1848. It is considered to be one of the world's most influential political texts.