India Gujarat Chief Minister Modi cleared in riots case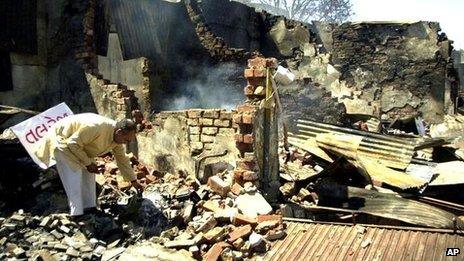 A court in India says investigators have found no evidence against Gujarat Chief Minister Narendra Modi in connection with a riots case in 2002.
The inquiry into a massacre during the riots also found no evidence against the 58 co-accused.
Ehsan Jafri, a prominent Muslim politician, was killed along with 68 others in the Gulbarg Society residential complex in Ahmedabad city.
Mr Modi's lawyer called the allegations against his client "absurd".
The chief minister - seen by many as a possible prime minister after the 2014 general elections - argues that he has been unfairly targeted by his critics.
Mr Jafri's widow argued that he failed to go to her husband's aid as he was burnt to death along with the 68 other people by a mob in a housing colony in Gujarat.
She accused Mr Modi and his Bharatiya Janata Party (BJP) ministerial colleagues, including top police officials, of conspiracy in the riots.
More than 1,000 people, mostly Muslims, died in violence that erupted after 60 Hindus were killed in a train fire.
Correspondents say the finding by the investigators is a boost for Mr Modi, who is one of India's most controversial politicians.
The BJP welcomed the ruling - one of several that have been made in relation to the riots - saying Mr Modi had been unfairly targeted.
The BBC's Sanjoy Majumder says Mr Modi has never completely shaken off allegations of tacitly backing the rioters - but at the same time he is admired by many as one of India's most efficient administrators.
Mr Modi has always denied any wrongdoing but has not apologised for the riots.
A Special Investigation Team (SIT) was appointed by India's Supreme Court to probe the Gulbarg massacre.
In its final report, it said it found no evidence against any of the accused named in the complaint filed by Mr Jafri's widow, Zakia, the Press Trust of India quoted Ahmedabad Metropolitan magistrate MS Bhatt as saying.
"According to SIT, no offence has been established against any of the 58 persons listed in Zakia's complaint," the court said.
The magistrate ordered that a copy of the report and all relevant documents be given to Mrs Jafri within 30 days.
Mrs Jafri said she was disappointed by the report, but said that her 10-year fight for justice would continue.
Last year, a senior police officer made a sworn statement to the Supreme Court that Mr Modi deliberately allowed the riots because Hindus should be allowed to vent their anger.
The 2002 riots were one of India's worst outbreaks of religious violence.
The cause of the fire on the train, which was carrying Hindu pilgrims, is a matter of fierce debate.
The riots started after Muslims were blamed for starting the blaze, but one subsequent inquiry suggested the fire may have begun on board, perhaps caused by a cooking stove.
Last week 23 people were found guilty of killing Muslims during the riots as they took shelter in a house from rampaging mobs.
And in March last year 11 men were sentenced to death for setting fire to the train.
Related Internet Links
The BBC is not responsible for the content of external sites.