Pakistani doctor Khalil Chishti leaves India prison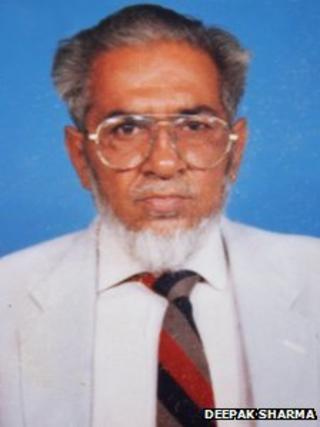 Pakistani doctor Khalil Chishti, 80, has been released from prison after serving 14 months in jail for a 1992 murder in India.
He was granted bail by the Supreme Court on Monday, a day after President Asif Ali Zardari's visit to India.
But the court ordered the Pakistani virologist not to leave India until it had decided on his appeal.
He was convicted in January 2011 by for a murder in the town or Ajmer and sentenced to life imprisonment.
Dr Chishti has always denied the murder charge and says he was framed.
The court found him guilty after an unusually long 18-year trial - during which he was put under house arrest. The Rajasthan high court later upheld his conviction.
He then applied for bail in the Supreme Court, saying that he was 80 and in poor health.
Reports say President Asif Ali Zardari raised the issue of Chishti's release at his lunch meeting with Indian Prime Minister Manmohan Singh on Sunday.
'Very happy'
"I am very happy to come out of prison and able to breathe freely after 20 years," Mr Chishti told the BBC's Hindi service after his release on Wednesday.
"There is nothing remarkable about the jail experience. If you complain too much, your difficulties go up."
Dr Chishti added: "I think I have 10 more years to live. My case should not be considered final until I am sent back to Pakistan and I am able to meet my family."
The ailing scientist was received by his relatives outside the jail. He has a heart condition and is wheelchair bound.
He had requested the Supreme Court to allow him to return home to Karachi, but the court ordered him to surrender his passport and remain in Ajmer until further orders.
The doctor, who was born in Ajmer, was in Pakistan at the time of the partition in 1947 and did not return until 1992 when he came to visit his ailing mother.
Several human rights groups have been campaigning for his return to Karachi.