Indian court sentences Gujarat rioters to life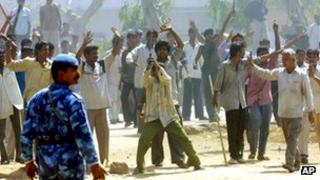 A court in India has sentenced 18 people to life imprisonment for the murder of Muslims in religious riots in Gujarat state 10 years ago.
Five others were given seven years and another 23 were acquitted earlier.
The group were found guilty of burning 23 Muslims to death in a house where they had taken shelter from rioting mobs in the village of Ode.
More than 1,000 people, mostly Muslims, died when riots erupted after a train fire killed 60 Hindu pilgrims in 2002.
It was one of India's worst outbreaks of religious violence in recent years.
Muslims were blamed for starting the train fire, and Hindu mobs eager for revenge went on the rampage through Muslim neighbourhoods in towns and villages across Gujarat in three days of violence following the incident.
A lawyer for the convicted said they would appeal in a higher court.
Special investigation
The case refers to killings that took place in Ode village on 1 March, 2002 a few days after the Godhra train deaths.
A mob of around 2,000 people went through the village targeting Muslim homes. A house where 23 Muslims, mostly women and children, had taken shelter was set alight.
The Ode massacre is one of 10 key incidents in the riots being probed by an independent Special Investigating Team (SIT) set up in 2008 after a Supreme Court directive.
Forty-seven people in Ode were charged with murder, conspiracy, rioting, unlawful assembly, attempt to murder and destruction of evidence by the SIT. One defendant died during the trial.
Two other cases looked at by the SIT have brought convictions. Last November, a court sentenced 31 people to life in prison for burning to death 33 Muslims near Sardarpura village in Gujarat.
And in February 2011, a special court in Gujarat found 31 people guilty of setting fire to the passenger train full of Hindu pilgrims in the town of Godhra, the incident which sparked the riots. Another 63 people were acquitted of conspiracy and murder.
The cause of the Godhra train fire is still a matter of fierce debate.
An commission of inquiry set up in 2008 by the Gujarat state government determined that it was the result of a conspiracy.
But a 2005 federal government inquiry concluded that the fire had been an accident - probably started by people cooking in one of the carriages - and was not the result of an attack.
Gujarat's authorities have been accused of not doing enough to stop the riots.
The 2008 state inquiry exonerated Gujarat Chief Minister Narendra Modi, a Hindu nationalist, over the riots.
And on Tuesday this week a court said special investigators had found no evidence linking Mr Modi to the Gulbarg Society massacre, in which 69 people were killed in a housing complex in Ahmedabad city during the riots.
Mr Modi, Gujarat's chief minister since 2001, has always denied any wrongdoing in connection with the riots but has never expressed any remorse or offered any apologies.