India's right-to-education law 'valid' - Supreme Court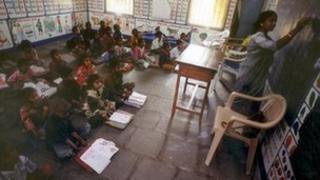 A law that makes education a fundamental right and reserves 25% of school seats for poor children is valid, India's Supreme Court has said.
The court ruling follows petitions by some private schools that complained the law violated their autonomy and was a drain on resources.
India's minister for human resource development, Kapil Sibal, has expressed his "happiness" over the court order.
Millions of children aged six-14 do not attend school in India.
Under the law, every child between those ages can demand free, primary school education.
The court, however, said that the law will not apply to schools run by minority groups that receive no government funds.
Some private schools had petitioned the court, saying that reserving one-quarter of their places for poor children will exhaust their resources.
Groups such as the Society of Unaided Private Schools and the Independent Schools Federation of India say that the Right to Education Act violates their autonomy. But the Supreme Court verdict has overruled this complaint.
Speaking to NDTV, Kapil Sibal said that all "controversies have been put to rest" and "our vision of education can now move forward".
Education-made man
Critics complain that schools run by both federal and state governments are poorly run and badly managed, although several government schemes are running to attract more children to schools.
Indian Prime Minister Manmohan Singh has said enough funds would be made available to ensure that children had access to education.
He said the government was committed "to ensuring that all children irrespective of gender and social category have access to education".
Recalling his own childhood, Mr Singh, a qualified economist, said: "I read under the dim light of a kerosene lamp. I am what I am totally because of education."
"So I want that the light of education should reach to all," he added.