BJP wins Delhi municipal elections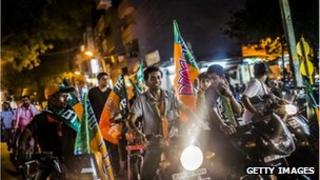 The Bharatiya Janata Party (BJP) has won the municipal elections in the Indian capital, Delhi.
The BJP won 138 of the city's 272 wards, defeating its main rival, the Congress party, which took 77 wards.
Turnout for Sunday's vote was the highest in 15 years, at 55% of the 11 million eligible voters.
The BJP won the majority of seats in Delhi's North and East municipalities and emerged as the largest single party in the third municipality, South.
The Congress party increased its share of wards by 10 from the 67 it won in the 2007 municipal polls but failed to recapture the city government from the BJP. The Bahujan Samaj Party (SP) won in 15 wards.
Correspondents say the results are another setback for the nationally ruling Congress party after its recent poor showing in state polls in Uttar Pradesh, Punjab and Goa.