Indian state's 'leftist marriage ban' criticised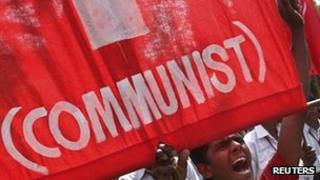 The former Communist rulers of India's West Bengal state have criticised a government minister who asked party members not to marry leftists.
Communist Party of India (Marxist) leader Mohammad Salim said Jyotipriya Mullik's utterances were "ridiculous".
Mr Mullik made the controversial statement at a meeting of 2,000 party workers on Sunday.
The state government, led by Chief Minister Mamata Banerjee, has sparked a number of controversies.
The 10-month-old government's list of "don'ts" is long and has attracted severe criticism.
Last week, police arrested a professor for allegedly posting on the internet cartoons ridiculing Ms Banerjee.
Professor Ambikesh Mahapatra of Jadavpur University was later released on bail.
'Mentally boycott'
Members of the state's ruling Trinamool Congress party "should not enter into any kind of relationship with CPI(M) - Communist Party of India (Marxist) - members. You should not marry anyone, even distantly related, to a CPI(M) member," Mr Mullik told the party gathering on Sunday.
The minister later told the BBC that he had only requested the party members to stay away from their political rivals.
"It was not a diktat. I only requested our party members to not get married into a CPI(M) family, nor attend any ceremony at a CPI(M) member's house.
"They were requested not to talk to CPI(M) members at tea stalls, and not go to the market with them."
Mr Mullik explained that if Trinamool workers mingled with CPI(M) supporters, they would not be able to take "political revenge".
"Trinamool workers may get mentally weak if they befriend CPI(M) members. We must continue with our tirade against the CPI(M) and take all necessary steps to isolate the party that has destroyed growth in West Bengal for the last 34 years."
When asked whether his call amounted to socially boycotting the Communists, Mr Mullik said: "I can't give a call to socially boycott them. I have made a request to 'mentally boycott' them."
Mr Mullik's utterances were "unfortunate and ridiculous", said senior CPI(M) leader Mohammad Salim.
"Democratic values are at stake because intolerance is being promoted by the highest authorities," he said.
"It is regrettable that the ruling party is developing and promoting enmity between people," he added.
The chief minister, who came to power in 2011 bringing to an end the state's 34-year-old Communist rule, has attracted a lot of negative publicity.
The government was severely criticised for arresting Prof Mahapatra for allegedly circulating a cartoon criticising the chief minister.
The government has also been criticised for the forceful eviction of slum dwellers in Calcutta and the arrest of a professor who joined a demonstration against the evictions.
The state was also accused of trying to muzzle the independent press when it chose only pro-government newspapers for state-funded libraries.
Ms Banerjee's order to paint the city blue has also been widely ridiculed.