India delays test launch of Agni-V long-range missile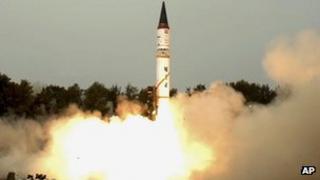 India has postponed the planned test launch of a long-range intercontinental ballistic missile capable of carrying nuclear warheads, officials say.
The locally-developed Agni-V missile was originally scheduled to have been launched on Wednesday in the eastern state of Orissa.
Defence officials said they had delayed the launch until Thursday because of heavy lightning in the area.
The missile has a range of more than 5,000km (3,100 miles),
"Due to heavy lightning in region, the Agni-V launch is postponed for safety reasons," a spokesman for the Defence Research and Development Organisation (DRDO), Ravi Gupta, told the BBC.
Analysts say the Agni (meaning "fire" in Hindi and Sanskrit) missile family is to be the cornerstone of India's missile-based nuclear deterrent.
The missiles are among India's most sophisticated weapons.
In 2010, India successfully test-fired Agni-II, an intermediate-range ballistic missile with a range of more than 2,000km (1,250 miles).
'Game-changer'
Defence analyst Rahul Bedi says a successful test flight of the Agni-V missile, which is capable of delivering a single 1.5-ton warhead deep inside nuclear rival China's territory, would strengthen India's nuclear deterrence once it comes into service by 2014-15.
It is 17.5m-tall, solid-fuelled, has three stages and a launch weight of 50 tons. It has cost more than 2.5bn rupees ($480m; £307m) to develop.
Only China, Russia, France, the US, and Great Britain have such long-range missiles. Israel is thought to possess them.
"Agni-V is to meet our present-day threat perceptions, which are determined by our defence forces and other agencies," DRDO Ravi Gupta spokesman told AFP news agency.
"This is a deterrent to avoid wars and it is not country-specific," he said.
Mr Gupta said India "has a no-first-use policy", and described the country's missile development programme "purely defensive".
VK Saraswat, scientific adviser to Defence Minister AK Antony, told The Hindu newspaper that the launch will mark a "historic day".
"Agni-V is a game-changer and a technological marvel. It is a weapon which can perform multiple functions," he said.