Workers at India's Uninor protest to save firm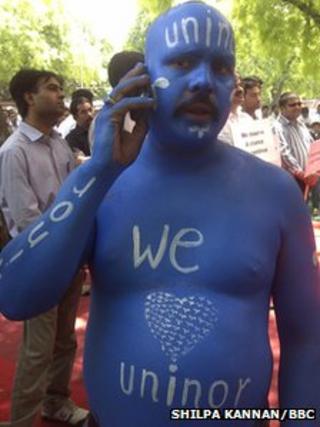 Hundreds of employees of Uninor, the Indian partner of Norway's telecoms company Telenor, have protested against potential job losses in Delhi.
About 17,000 jobs at Uninor are thought to be at risk because the Supreme Court cancelled its mobile phone licence.
The Supreme Court cancelled 122 such licences after allegations of corruption in their allocation emerged.
Former telecoms minister A Raja denies any wrongdoing in what has been called India's biggest corruption scandal.
Government auditors say the alleged misallocation of licences in 2008 cost the country about $40bn (£24.5bn).
In February, the Supreme Court ordered the 122 licences canceled before 2 June.
Uninor says it has been "unfairly harmed" by the ruling. The firm says it has invested billions of rupees in India and it is unfair to lose that money.
'Deserve a chance'
The Uninor workers held up placards and wore T-shirts with the firm's logos at the protest, held at the Jantar Mantar observatory.
"The purpose of this gathering is to register our presence, bring to the government's attention the fact that Uninor's future is our future and that we deserve a chance to continue," Uninor employees said in a statement to journalists.
"Our employment is dependent on the continuity of Uninor's operations and so we will be asking the government to ensure that we are allowed to keep the operations running till such time that our company is able to participate in the new 2G auctions," they said.
The company's 36 million customers in India also face losing their connection, but the telecoms regulator says the affected subscribers can be transferred to other mobile operators.
India is one of the world's fastest growing markets for mobile telephones with 893 million connections.
The Supreme Court ruling has been a major setback for the government, which has been hit by a series of corruption scandals in recent months.