India media hail Agni-V long-range missile launch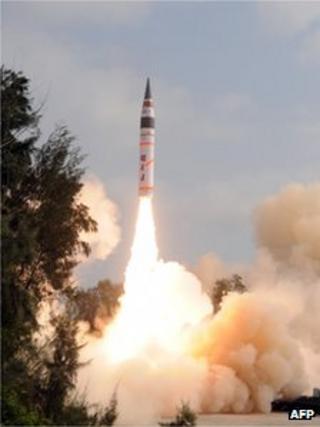 India's media has hailed Thursday's successful launch of a long-range intercontinental ballistic missile able to carry a nuclear warhead.
The media said the launch of the Agni-V missile had propelled India into the "elite group" of nations who possess such weaponry.
The missile has a range of more than 5,000km (3,100 miles), potentially bringing targets in China within range.
India said the launch was "flawless" and the missile had reached its target.
With this, India joins an elite nuclear club of China, Russia, France, the US and UK which already have long-range missiles, although with a much greater range. Israel is also thought to possess them.
"Missile Muscle", headlined The Indian Express newspaper.
"India has carefully worked on the range of capability of the Agni-V to ensure that it does not alarm the world," the newspaper wrote.
"The revealed range, over 5,000km, makes it a LRBM, or long-range ballistic missile, something that does not carry the more sinister connotation of an ICBM, or intercontinental ballistic missile, which would have had a range of over 5,500km."
'Awesome success'
But other papers described Agni-V as an ICBM, with The Hindu headlining: "Agni-V propels India into elite ICBM club."
"However, responsible possession of nuclear-armed missiles for the purposes of deterrence also requires working assiduously to remove sources of friction that can erupt into open conflict," the newspaper said in an editorial.
"It is important that India and China start talking to each other on nuclear issues."
The Pioneer described the launch as an "awesome success" .
"... whatever China says, the fact remains that Agni-V has rattled that country... The bare truth is that China has to now deal with India as a major player in missile technology. And, it's not just China but also the rest of the world which has to come to terms with India's new-found status," the newspaper said.
The Asian Age said the launch had "opened up options for India", and that the "most remarkable thing about it is that it is entirely indigenous" .
The Times of India said the Agni-V had helped India "roar" into the "elite ICBM club".
"India can, however, sit at this high table only when the Agni-V, which just about meets the 5,500km ICBM benchmark, becomes fully operational after four to five repeatable tests," the newspaper said.
Analysts say the Agni (meaning "fire" in Hindi and Sanskrit) missile family is to be the cornerstone of India's missile-based nuclear deterrent.
The Agni-V is 17.5m tall, solid-fuelled, has three stages and a launch weight of 50 tonnes. It cost more than 2.5bn rupees ($480m; £307m) to develop.