Indian state of Bihar ejects French tourists 'for Maoist ties'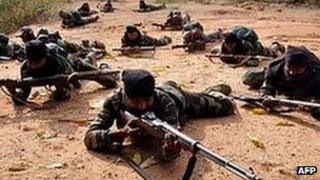 Nine French tourists have been ejected from the eastern Indian state of Bihar for their alleged involvement in Maoist activities, police officials said.
The group was detained in the remote Nawada region known to be a Maoist stronghold in the state .
Police said they had violated visa regulations after they were found to be working with a group alleged to be a front for Maoist rebels.
The nine French nationals have not yet commented on the allegations.
Tourist visa rules specifically prohibits any socio-political activities in the country.
"The group have been sent to the eastern city of Calcutta, from where they will go to the capital New Delhi," said SL Das, the superintendent of police in Bihar.
It is unclear if they will be deported from India, but correspondents say this is likely.
The police became suspicious of the French tourists because they were working in Nawada with Unity Forum, the group alleged to be a Maoist rebel front.
Unity Forum says it is simply working to protect the land and water rights of the poor, according to the Associated Press news agency
Maoist rebels have been described as the country's most serious internal security threat by India's prime minister.
The rebels say they are fighting for the rights of indigenous tribal people and the rural poor and have a strong presence in large parts of the eastern states of India.