Congress Party leader quits over India tape row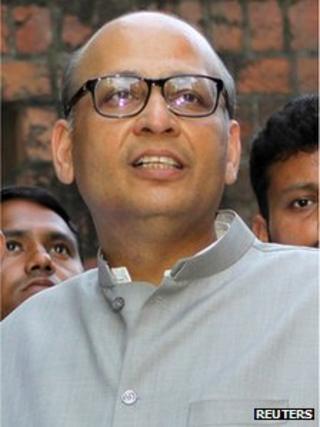 Senior Congress leader Abhishek Manu Singhvi has resigned as the party's spokesman after a video allegedly showing him having sex with a woman was distributed on social networking sites.
Mr Singhvi, a top lawyer, has said the video was fabricated and denied news reports that he had offered to help the woman to become a judge.
He has also resigned from a powerful parliamentary law panel he headed.
The development is a fresh blow to the ruling Congress party.
India's ruling party is already dogged by a slowdown in economic growth and allegations of corruption.
Mr Singhvi had earlier obtained a court order to prevent the media from exhibiting and distributing the video.
"I have done this only to prevent even the slightest possible parliamentary disruption regarding the purported CDs being circulated about me," he said about his resignation in a statement quoted by Reuters news agency.
"Specifically, some sections of the print and visual media are spreading a falsehood simply by repetition and hearsay that there is reference in the CD to the promise of any post. No one has heard any such reference in the CD. There is none simply because it does not exist.
"It is pure imagination, wishful thinking and sensationalism."
The incident is likely to cause an uproar during the ongoing budget session of parliament, which reconvenes on Tuesday.
The main opposition Bharatiya Janata Party has said it planned to question Mr Singhvi's resignation in parliament.