India court extends deadline for fresh telecoms auction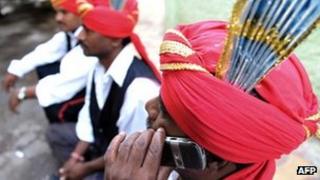 India's Supreme Court has given the government until 31 August to hold a fresh auction of 122 telecoms licences that were cancelled in February.
The court extended its earlier deadline of 2 June after the government asked for more time to conduct the sale.
Telecoms shares fell on Tuesday after regulators advised the base mobile spectrum price should be 10 times what it was in the first sale in 2008.
The "2G" licences were mis-sold, costing the country an estimated $40bn.
Former minister A Raja is accused of mis-selling bandwidth in what has been called India's biggest corruption scandal. Mr Raja is currently on trial for fraud and denies any wrongdoing.
'Catastrophic impact'
The Supreme Court also ruled that eight companies whose licences were revoked could operate until 7 September.
Telecom operators affected by the cancelled licences welcomed the ruling.
"We welcome the fact that the court has ensured speedy auctions and allowed our operations to continue," said Uninor in a statement.
But the company also said the government "must move fast to review some of the recommendations that are otherwise certain to have a catastrophic impact on the industry and on tariffs for the common man".
The government had told the court that more than 69 million mobile phone subscribers - 7.5% of total subscribers in India - could face service disruption as a fresh auction of the licences was not possible by the earlier June deadline.
The court rejected this and said "the entire exercise could have been avoided" with a little more effort.
February's court ruling cancelling the licences was a source of further embarrassment for the government of Prime Minister Manmohan Singh, which has been hit by several high-profile corruption cases in recent months.