Italy in compensation deal with India fishermen families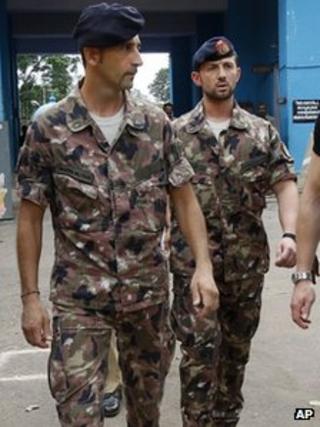 Italy has agreed to pay compensation to the families of two Indian fishermen shot dead by Italian marines who allegedly mistook them for pirates.
The families will each receive 10m rupees ($189,000; £117,013), officials said. In return they have withdrawn court cases against the marines.
The two marines, who were guarding an Italian oil tanker, are still being held in India on murder charges.
Italy said they fired warning shots, mistaking the fishermen for pirates.
The incident took place off the coast of the southern Indian state of Kerala in February. India said the fishermen, Valentine and Ajesh Pink, were unarmed.
Under the agreement signed on Tuesday, the compensation money will be paid to the widow and two children of Valentine, and to two sisters of Ajesh Pink.
The tanker Enrica Lexie was on its way from Singapore to Egypt, with a crew of 34, including 19 Indians.
Following the shooting, the marines - Massimiliano Latorre and Salvatore Girone - were detained and are being held in the central prison in the Keralan state capital, Trivandrum.
"We have settled the compensation case and signed the agreement to withdraw the [civil] cases with the consent of the High Court of Kerala," a lawyer for the families, Unnikrishnan, told AFP news agency.
It is not clear if the murder charges against the marines will be dropped.
On Friday India's federal government told the Supreme Court that Keralan police had no jurisdiction to detain the Italian ship or investigate the incident because it had occurred on the high seas.
But Keralan officials disagreed. "We still stand by our position that the incident took place in our waters and we will try them under our laws," Chief Minister Oommen Chandy said.
Piracy threat
Italian and Indian officials have met a number of times since February to try to sort out the row.
Italy insists its personnel cannot be charged under Indian law. It says the marines had immunity as the tanker was flying an Italian flag and was in international waters when the incident happened.
Before the apparent shift in its stance last week, India's government had insisted that the marines be tried under local laws.
The Italian marines were deployed on the tanker to provide security against pirates.
Piracy has emerged as a major threat to merchant ships in the Indian Ocean and the Arabian Sea, with Somali pirates hijacking ships and their crews for ransom.
But there have been fewer attacks recently, partly because more armed guards are now deployed on board ships.