Bofors arms deal: 'No evidence Rajiv Gandhi took bribe'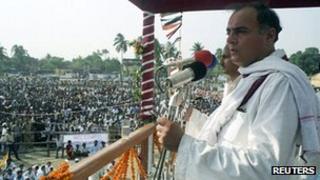 A former Swedish police chief says there is no evidence that late Indian PM Rajiv Gandhi took a bribe in an arms scandal that led to his defeat in 1989.
Sten Lindstrom, who led the probe and has identified himself as the whistle-blower, however said that Gandhi had "done nothing" to prevent a "cover-up".
Mr Lindstrom also cleared top Bollywood actor Amitabh Bachchan and his family from any involvement in the scandal.
Swedish arms firm AB Bofors was accused of paying bribes in 1986.
They related to the sale of more than 400 howitzers to India.
'Tarred'
Sten Lindstrom who was called "Swedish Deep Throat" for 25 years by the Indian media, has revealed he is the man who leaked documents relating to the investigation to reporter Chitra Subramaniam-Duella in an interview on the Indian media website The Hoot.
"I knew what I was doing when I leaked the documents to you. I could not count on my government or Bofors or the government of India to get to the bottom of this," he told the interviewer.
Mr Lindstrom said that "there was no evidence that he [former prime minister Rajiv Gandhi] had received any bribe" in the deal.
"But he watched the massive cover-up in India and Sweden and did nothing. Many Indian institutions were tarred, innocent people were punished while the guilty got away."
However, he said the evidence against Italian businessman Ottavio Quattrocchi was "conclusive".
Mr Quattrocchi, an accused in the high-profile corruption case, one of the longest-running criminal investigations in India, was also a close friend of Sonia Gandhi, the widow of Rajiv Gandhi.
Last year, India's income tax department ruled that more than $9m (£6m) in kickbacks were paid to Mr Quattrocchi and an Indian arms dealer, Win Chadha, in the scandal.
But the Italian businessman has always denied any involvement, arguing he was the victim of a political vendetta in India.
'Anguish'
Mr Lindstrom said the $1.3bn deal with India along with a supply contract was the "biggest ever arms deal in Sweden" at that time.
"Money marked for development projects was diverted to secure this contract at any cost. Rules were flouted, institutions were by-passed and honest Swedish officials and politicians were kept in the dark," he said.
"Our former Prime Minister Olof Palme was talking peace, disarmament and sustainable development globally, while we were selling arms illegally, including to countries that were on our banned list."
Mr Lindstrom also gave a clean chit to Bollywood legend Bachchan saying his name was planted in the newspapers by Indian investigators.
Reacting to the news, Bachchan wrote on his blog that the accusations had led to years of "anguish".
"No one shall be able to understand or even remotely fathom, the hours and days and months and years of the anguish of petulant blame, that I had to go through," he wrote.
Meanwhile, the opposition Bharatiya Janata Party has said it will bring up the latest revelations in the ongoing session of parliament.
"The entire government of India at that point in time was out to save Italian businessman Ottavio Quattrocchi, including then prime minister Rajiv Gandhi," BJP spokesperson Ravi Shankar Prasad told reporters on Wednesday.
The Bofors corruption case contributed to the election defeat of Rajiv Gandhi in 1989, two years before he was assassinated.
In 2004, he was posthumously cleared of any wrongdoing in the deal.