India Maoists 'to free' abducted Orissa politician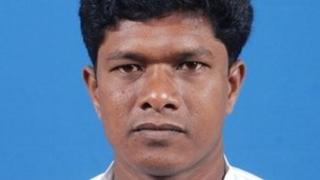 A legislator, who was kidnapped by Maoist rebels in the eastern Indian state of Orissa more than a month ago, is likely to be released on Thursday.
The rebels said the decision to free Jhina Hikaka was taken at a meeting of the "praja court" (people's court).
Mr Hikaka was abducted in the early hours of 24 March while returning home after attending a meeting.
The government had earlier offered to free some Maoists and their supporters in exchange for his release.
In an audio message released to the media, Maoist spokesperson Comrade Aruna said the decision to release Mr Hikaka was taken at the two-day long meeting held inside the forests of Narayanpatna on Monday and Tuesday and attended by about 150 people.
"Mr Hikaka will be released at Balipeta village in Narayanpatna and handed over to lawyer Nihar Ranjan Patnaik and his wife by 10:00am [0430GMT] tomorrow [Thursday]," she said.
"You cannot talk to him right now. But we assure you he is fine. You will be allowed to cover his release," she added.
The rebel spokesperson also said that after his release the legislator would resign from the Orissa assembly and sever all ties with the state's governing Biju Janata Dal (BJD) party as it had "failed to do anything for the people".
Mr Patnaik confirmed that he had been invited by the Maoists to take custody of the legislator.
Mr Hikaka's family said they had not been contacted by the Maoists about the release.
"They [the rebels] have shifted the deadlines so many times. So, we are keeping our fingers crossed and hoping for the best," his sister Bijaylaxmi told the BBC.
The rebels abducted Jhina Hikaka and two Italian tourists in separate incidents in March.
The Italians - Paolo Bosusco, 54, and Claudio Colangelo, 61, - were seized on 14 March while trekking in a tribal area of Orissa.
Mr Colangelo was released on 25 March while Mr Bosusco was freed on 12 April.
The Maoists have a strong presence in many eastern and central states, and have been described by Prime Minister Manmohan Singh as the country's biggest security threat.
The rebels say they are fighting for a communist state and for the rights of tribal people and the rural poor.