Standard and Poor's warns India on credit rating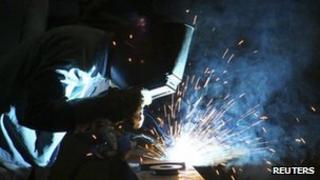 Ratings agency Standard and Poor's has warned that India's worsening deficits and diminishing growth prospects could lead to a downgrade of its economy.
The agency retained the rating at BBB-, but said it was changing its outlook from stable to negative.
It said economic growth for the 2012-13 financial year would be 5.3%, which is far lower than the government's projection of 7.6%.
Finance Minister Pranab Mukherjee said there was no cause for panic.
"I am confident that the economy will grow at around 7%," Mr Mukherjee said.
"We will be able to pursue fiscal deficit and it will be around 5.1% of the GDP."
Standard and Poor's credit analyst Takahira Ogawa said in a statement on Wednesday that India's investment and economic growth prospects had slowed and its current account deficit had also widened, "resulting in a weaker medium-term credit outlook".
"We are revising the outlook on the long-term ratings on India to negative," he said.
In February, government statistics showed that India's economic growth was likely to dip below 7% for 2011-12.
Officials said the downward revision reflected the slowdown in the mining, agriculture and manufacturing sectors.
Analysts say industry has been hit by frequent interest rate rises, designed to curb soaring inflation.
They point to global market uncertainty, particularly in the eurozone, and apparent policy paralysis in the Indian government as contributing to the slowdown.
Inflation has proved a persistent problem. Interest rates have been raised 13 times since March 2010 in an effort to slow price increases.
Despite the growth downgrade, the main Sensex stock exchange has continued to perform well - up nearly 15% this year - while the under-fire rupee has risen 8% on its 2011 close.