India Maoists free Orissa politician Jhina Hikaka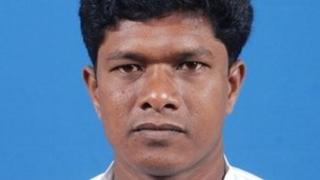 Maoist rebels in the eastern Indian state of Orissa have released a state legislator they kidnapped more than a month ago.
Jhina Hikaka was handed over to lawyer Nihar Ranjan Patnaik at Balipeta village in Narayanpatna forests on Thursday morning.
"I am fine now. They did not torture me," he told reporters on his release.
Mr Hikaka was abducted in the early hours of 24 March while returning home after attending a meeting.
A separate group of Maoists is still holding a civil servant in the neighbouring state of Chhattisgarh.
The rebels abducted Alex Paul Menon after killing his two guards in Sukma district on 21 April.
Reports said Mr Hikaka was released after the government agreed to free more than two dozen Maoist cadres and sympathisers.
On Wednesday, the rebels said a "praja (people's) court" had taken the decision to free Mr Hikaka.
In an audio message to reporters, the rebels said that Mr Hikaka had agreed to resign from his post in return for his freedom.
A fortnight before Mr Hikaka's abduction, another group of rebels had abducted two Italian tourists.
Paolo Bosusco, 54, and Claudio Colangelo, 61, were seized on 14 March while trekking in a tribal area of Orissa.
Mr Colangelo was released on 25 March while Mr Bosusco was freed on 12 April.
The Maoists have a strong presence in many eastern and central states, and have been described by Prime Minister Manmohan Singh as the country's biggest security threat.
The rebels say they are fighting for a communist state and for the rights of tribal people and the rural poor.