Bollywood star Shah Rukh Khan summoned for smoking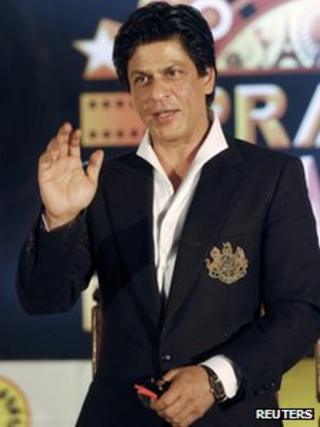 A court in India's Rajasthan state has summoned Bollywood star Shah Rukh Khan for smoking in public.
The actor has been asked to appear in court in the city of Jaipur on 26 May.
Khan is accused of violating anti-smoking laws and setting a bad example by smoking during an Indian Premier League (IPL) match on 8 April.
On 13 April police fined the Rajasthan Cricket Association 200 rupees ($3.9; £2.4) for letting him smoke in the stadium in Jaipur.
Khan is the owner of the Kolkata Knight Riders IPL team, which represents the city of Calcutta.
The petition was filed by Jaipur resident AS Rathore.
"We argued that the film star violated the law and set a wrong precedent. He smoked in stadium in full public view and deserves action against him," Mr Rathore's lawyer, Nemi Singh Rathore.
"Our contention is that if film stars violate laws, it sends a wrong message to society."
The petitioners have also submitted to the court press reports and a CD which shows Khan smoking.
Earlier in April, police fined the Rajasthan Cricket Association because, they said, "it was their responsibility to not allow anyone to use their premises for smoking".
Police said the fine was "a small amount, but it has a big message attached to it".
Rajasthan enacted the anti-smoking law 12 years ago and declared smoking in public places an offence.
Khan is one of India's biggest stars and has appeared in more than 70 films.