India parliament uproar over Bofors scandal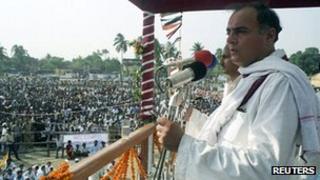 There has been an uproar in Indian parliament after recent claims that late PM Rajiv Gandhi did nothing to prevent a cover-up in an arms scandal.
Opposition MPs stalled both the houses demanding a judicial probe into the 25-year-old Bofors scandal.
A retired Swedish police chief recently said there was no evidence to prove that Mr Gandhi took a bribe.
The scandal came to surface in 1986 and eventually led to Rajiv Gandhi's electoral defeat three years later.
Sten Lindstrom, who led the probe, has identified himself as the whistle-blower. He said Mr Gandhi "watched" but had "done nothing" to prevent a cover-up.
Swedish arms firm AB Bofors was accused of paying bribes in 1986.
They related to the sale of more than 400 howitzers to India.
'Judicial probe'
Members of the main opposition Bharatiya Janata Party (BJP) started shouting slogans as soon as parliament met on Thursday.
Leader of the opposition in the Rajya Sabha [the upper house] Arun Jaitley raised the issue and demanded a thorough investigation into the arms deal.
In the Lok Sabha [the lower house], opposition members accused the government of protecting the corrupt.
"It is a saga of continuing corruption. In matters of corruption, there is no closure," senior BJP leader Jaswant Singh said.
Mr Singh called for a judicial probe into the case.
Opposition MPs said the Congress party-led government let the main accused, Italian businessman Ottavio Quattrocchi, leave the country.
Mr Quattrocchi was a close friend of Sonia Gandhi, the widow of Rajiv Gandhi.
Mr Lindstorm has said evidence against Mr Quattrocchi was "conclusive".
The Congress party has refused to reopen the case.
On Wednesday, Law Minister Salman Khurshid said that a thorough investigation had been done and nothing came out of it.
The Bofors corruption case contributed to the election defeat of Rajiv Gandhi in 1989, two years before he was assassinated.
In 2004, he was posthumously cleared of any wrongdoing in the deal.