Italy's Vespa scooter returns to Indian roads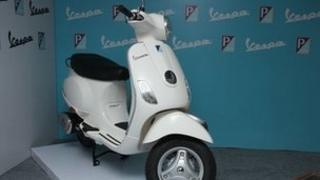 The Italian Vespa scooter is back on India's roads after a 13-year absence, with the launch of the LX125 model.
"There is no better time to be in the Indian two-wheeler scooter space," Piaggio India chairman Ravi Chopra said at the launch of the vehicle.
Piaggio will invest another 20m Euros ($26m; £16m) to double its scooter capacity in India by the end of 2013.
Vespa scooters went off Indian roads in 1999 after Piaggio ended a partnership with India's LML Motors.
Ravi Chopra hopes Piaggio can appeal to upwardly mobile Indians, as he believes "there is a significant number of brand-conscious young people who would like to make a statement".
Until a few years ago, scooters were hugely popular in India.
Entire families - husband, wife and two children - could be seen sitting on their scooter, riding around small and big towns across the country.
Scooters were so much in demand that there were waiting lists to buy one and many sold at high premiums.
But as the country's economy grew rapidly, many people bypassed the scooter, instead buying fancy motorbikes or even cars.
But India's scooter market has been on the rise again with Indians buying 2.56 million scooters last year which represented a 24.6% growth, according to industry data.
The gearless 125cc model introduced in India will cost 66,661 rupees ($1200; £782).
Vespa first entered the Indian market back in the 1960s in partnership with Bajaj Auto and then again during the 1980s with LML Motors - but this partnership ended after a dispute.
The company will be opening its production plant in Baramati in Maharashtra state on Saturday. It hopes to double the number of scooters it will be producing there to 300,000 by next year.