UN chief Ban laments rich-poor divide on trip to India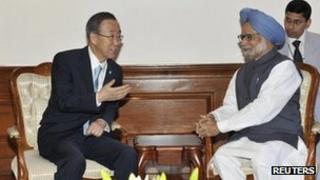 India has made impressive economic progress but there are "serious disparities between rich and poor", UN Secretary-General Ban Ki-moon has said.
"There are many people who don't have [access to basic services," he told reporters in Delhi on the second day of a three-day visit to India.
Mr Ban met Indian Prime Minister Manmohan Singh on Friday to discuss regional and security-related issues.
He also praised India's leadership role in the UN Security Council.
Ban Ki-moon commended India's progress in public health and noted that the country had not recorded any cases of polio in more than a year.
But he emphasised the need to improve the condition of women and children.
Terrorism
The UN secretary-general said terrorism could not be justified under any circumstances.
"Terrorism has to be eliminated and stopped... and the international community must be united in addressing this issue," said Mr Ban.
He said those who attacked Mumbai in 2008 should be brought to justice and expressed confidence that India and Pakistan were talking to each other to resolve the issue.
Earlier on Friday, Ban Ki-moon spoke at Delhi's Jamia Millia Islamia University and recalled his decades-old association with India.
He said he got his first diplomatic posting in Delhi 40 years ago.
Mr Ban was given an honorary doctorate at a special ceremony at the university.