France President Nicolas Sarkozy snaps at Strauss-Kahn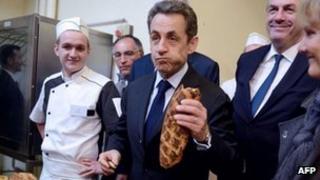 French President Nicolas Sarkozy has rejected claims by Dominique Strauss-Kahn that his party was behind the former IMF chief's downfall.
Mr Sarkozy told reporters Mr Strauss-Kahn should keep quiet and "spare the French his remarks."
Mr Strauss-Kahn told Britain's Guardian newspaper that sex allegations against him were orchestrated by opponents.
He said although he did not believe he had been set up, events were "shaped by those with a political agenda".
The Guardian said it was clear that he was referring to people working for Nicolas Sarkozy and his UMP party.
Mr Strauss-Kahn was forced to stand down as head of the International Monetary Fund (IMF) in May last year when he was arrested in New York and accused of sexually assaulting a hotel maid.
The charges were later dropped, but he has since been embroiled in new allegations that he was involved in a prostitution ring.
On the campaign trail Mr Sarkozy dismissed Mr Strauss-Kahn's interpretation of events.
"Enough is enough!" he said, "I would tell Mr Strauss-Kahn to explain himself to the law."
Libyan 'support'
Mr Sarkozy is trailing in the polls in the run up to the second and decisive round of France's presidential election on 6 May.
And he is faced with further damaging allegations about his links to Libya under former leader Col Muammar Gaddafi.
A left-wing political website, Mediapart, claims to have documentary evidence that Mr Sarkozy's 2007 presidential campaign received 50m euros ($66m) from the Gaddafi regime.
The document - dated 2006 and written in Arabic - appears to have been signed by the then Libyan foreign intelligence chief Musa Kusa.
It refers to an "agreement in principle to support the campaign for the candidate for the presidential elections, Nicolas Sarkozy, for a sum equivalent to 50m euros."
The website made similar claims last month.
Mr Sarkozy said the claims were "grotesque", and said that if Gaddafi had financed his campaign "I wasn't very grateful" - a reference to the role he played in the former leader's overthrow in 2011.