India lifts ban on cotton exports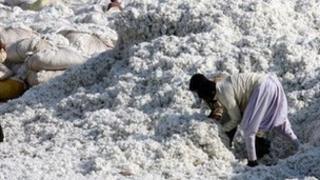 The Indian government has lifted a ban on cotton exports, Trade Minister Anand Sharma has said.
Mr Sharma said fresh registration for export would be allowed and the export situation would be reviewed on a fortnightly basis.
Indian authorities imposed the restriction last month after record overseas sales raised concerns about domestic supplies.
India is the world's second-largest producer and exporter of cotton.
It has so far allowed 11.5 million bales of 170kg each for overseas sale from 1 October.
Farmers and overseas cotton buyers had complained about the government ban.
Exporters had outstanding orders for 2.5 million bales of cotton when the ban, which took immediate effect, was imposed on 5 March.
Exports had already hit the higher-than-expected level of 9.5 million bales and, at the time, officials at the textile ministry said the ban was needed due to "the trend of domestic consumption and depletion of domestic availability".
There was an angry reaction from farmers and from China, which imports much of India's surplus production and is the world's biggest cotton buyer. It said the ban was "irresponsible".
The government justified the ban by saying that India needed to protect supplies for its own cotton mills, amid a decline in production and higher-than-expected exports.