Sachin Tendulkar: 'Honoured' by India MP nomination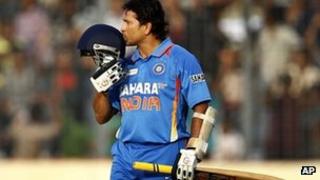 Indian cricketer Sachin Tendulkar says it is "an honour" to be nominated for a seat in the upper house of parliament.
In his first comments since last week's nomination, the cricketer said he was "excited" to be nominated, though it came like a "bouncer".
Tendulkar's name was put forward by Prime Minister Manmohan Singh to President Pratibha Patil, who can nominate 12 people to the Rajya Sabha.
Tendulkar is the first cricketer to score 100 international centuries.
The 39 year-old is revered by millions of Indian cricket fans.
Tendulkar made his international debut in 1989 and has played 188 tests and 463 one-day internationals.
He will become the first cricketer to take a seat in the upper house of India's parliament. There have been several film personalities in the past and currently poet and scriptwriter Javed Akhtar is in the house.
'Cricket is my life'
On Tuesday, Tendulkar put to rest all speculation that he would join politics.
"When you get nominated because of your contribution in your field, it's an honour. I was excited to be nominated," Tendulkar said in the western city of Pune.
"I don't think I will stop (playing) cricket and go straight into politics. I will keep playing cricket. Cricket is my life and will always be," he added.
The cricketer is expected to take oath as an MP in the coming weeks.
Tendulkar's nomination last week surprised many in India and some criticised the "apolitical" cricketer for accepting the offer from the ruling Congress party.
Before the news of his nomination became public, Tendulkar and his wife Anjali, made a courtesy call to Congress Party President Sonia Gandhi at her residence in the capital, Delhi.
Of 250 Rajya Sabha members, 12 are nominated by the president for "special knowledge or practical experience in respect of such matters as literature, science, art and social service", according to the constitution.
India's home ministry finalises the nomination list only after getting the consent of the people they recommend.