Aarushi Talwar murder: Mother denied bail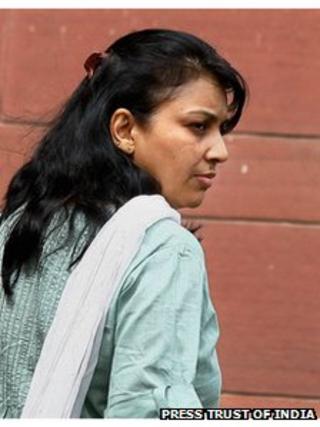 A court in India has rejected the bail application of the mother of murdered schoolgirl Aarushi Talwar.
Nupur Talwar was arrested and sent to jail on Monday after a trial court rejected an earlier plea for bail.
The murders of Aarushi and her domestic help in 2008 shocked the country.
In January, the Supreme Court ordered the parents to stand trial after they challenged a ruling from a lower court which said there was enough evidence to prosecute them.
The lower court had ruled that the couple should be charged with murder, destruction of evidence and criminal conspiracy.
The Talwars, both dentists, deny all the charges.
Throat slit
Dr Talwar's bail application was heard by the District Sessions Court in Ghaziabad town, near Delhi.
A lawyer for the prosecuting agency, the Central Bureau of Investigation (CBI), said Dr Talwar was denied bail as "she is an accused in the double murder case and she can flee from trial".
Her lawyers have appealed in the Supreme Court.
At present, Dr Talwar is being detained in Dasna Jail in the district.
The CBI says circumstantial evidence points to the parents' involvement in Aarushi's death, but there is a lack of hard evidence.
The gruesome tale of murder in an affluent Delhi suburb has generated huge interest in India.
Aarushi, 14, was murdered in her bedroom at the family home in Noida district while her parents slept.
She was found with her throat slit and a fatal head injury.
A day later, the bludgeoned body of their male domestic helper, Hemraj, was found on the roof.
Aarushi's father was arrested and later freed. Three other men, Dr Talwar's dental assistant and two servants employed by the family's friends and neighbours, were also questioned and released.
The CBI took over the inquiry from Noida police, whose investigation was widely criticised. Noida police were also reprimanded for statements they made during their investigation.
Days after the murder, a senior police officer told the media that Aarushi had been killed because she had discovered her father's alleged extramarital relationship with another dentist.
The same police officer also suggested the teenager could have been killed because Dr Talwar had objected to her close relationship with the murdered servant.