Ashton Kutcher 'racist' advert dropped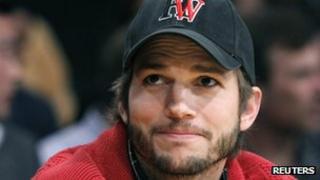 An online advert for crisps featuring Hollywood actor Ashton Kutcher has been removed after viewer complaints that it was racist, reports say.
The Popchips advert showed the 34-year-old actor in brown make-up portraying a Bollywood film producer.
It was removed from YouTube and Facebook after it was criticised.
The crisp manufacturer said the advert was "created to provoke a few laughs and was never intended to stereotype or offend anyone".
A spokeswoman for Popchips was quoted as saying by the Associated Press news agency that the company hopes that "people can enjoy this in the spirit it was intended".
The pictures and images featured Kutcher playing a Bollywood producer named Raj who is "looking for love".
Last month Variety magazine reported that Kutcher is to play Steve Jobs in a biopic about the late Apple co-founder.