Disinfectant bottles for India train passengers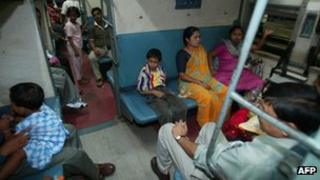 Passengers on long-distance trains in India will now be given bottles of disinfectant to maintain hygiene in toilets, says a newspaper report.
The experiment will start in the air-conditioned coaches on trains that take more than 30 hours to complete their journey, the Indian Express reported.
Passengers would need to spray the liquid on the flush before pulling it, an Indian Railways spokesman said.
This would completely sanitise the toilet, he added.
Railway passengers in India regularly complain of dirty and stinking toilets.
The idea was thought up by South Eastern Railway general manager AK Verma, the newspaper says.
"One of the complaints we often receive is that on long-distance trains, toilets become dirty," a railways spokesperson told the newspaper.
"Of course trains are cleaned during the journey, but even then, because of the distance, toilets get dirty. So we thought that if we provide bottles of phenyl-type substances along with the linen and bedroll to passengers of air-conditioned coaches, it will ensure hygienic toilets.
"The passengers can spray the premixed solutions on the flush before use. That will ensure complete sanitisation," he said.
The liquid will be "a totally herbal product" and not contain any chemicals and it will be provided free to the passengers, the spokesman added.
India's vast railway network is one of the busiest in the world.
The state-owned railway operates 7,000 passenger trains and carries some 13 million passengers daily.