Toilet sewage smell forces adjournment of India parliament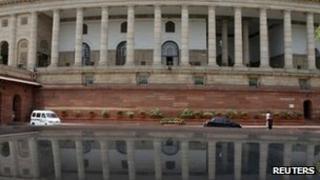 A foul smell emanating from sewage in a toilet in India's upper house of parliament, the Rajya Sabha, forced it to adjourn twice on Thursday.
Congress party lawmaker Rama Chandra Khuntia first complained of the smell when a minister was replying to a question in the House.
The first adjournment lasted for 15 minutes. But the continuing stink forced lawmakers to exit again.
Mr Khuntia told the BBC the smell was due to "poor maintenance".
"Everyone in the Rajya Sabha, panicked. Initially, we thought it was a gas leak. But then we realised the stench emanated from the toilet."
"We were told the smell from a toilet adjacent to a canteen found its way inside the House through air-conditioning ducts," Mr Khuntia said.
The incident comes three days after brief power cuts interrupted parliament proceedings.
Television news channel NDTV quoted the main opposition party BJP's Ravi Shankar Prasad as saying: "We talk of nuclear safety, we should at least ensure safety of smell in the House."