Minister urges Air India pilots to end strike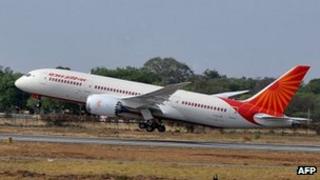 Indian Aviation Minister Ajit Singh has renewed his call for Air India pilots to end their four-day-old strike.
"If they want to talk, they should come to work," he said after meeting Prime Minister Manmohan Singh.
Officials said at least 12 Air India international flights were cancelled on Friday. Pilots have reported in sick in a row over training arrangements.
Separately, some pilots of the private Kingfisher Airlines have ended their strike, reports the news agency PTI.
Asked to confirm, a Kingfisher spokesperson refused to comment. Many Kingfisher flights have had to be cancelled following the action by some pilots who say they have not been paid their salaries.
More dismissals
Speaking to reporters after meeting the prime minister, Ajit Singh said the Air India strike had been declared illegal by a court and it was not a question about being stubborn.
"To save Air India, we need the co-operation of employees as it is their company. If Air India would not survive, there is no meaning of the issues they are raising. Unions need to understand this," he said, PTI reports.
"If they want to talk, they should come to work, and all issues can be discussed."
The airline sacked nine more pilots on Thursday, taking the total number of fired pilots to 46, amid a dispute over training for the new Boeing 787 Dreamliner planes.
Air India officials said the airline had stopped taking bookings for the US and Europe-bound flights until 15 May.
The pilots are protesting against the decision to train pilots from Indian Airlines, which merged with Air India in 2007, to fly the new planes.
Air India pilots have said the planes were ordered before the merger, so they should be preferred for training.
On Wednesday, the Delhi High Court ruled that the pilots' strike was "illegal" and ordered them back to work.
On the strike by Kingfisher pilots, Mr Ajit Singh said earlier: "Kingfisher has been in trouble since some time. They have been facing some financial problems. Air India is even worse but it [Kingfisher] is a private company so they have to mobilise the resources by themselves."