India parliament row over Dalit icon Ambedkar cartoon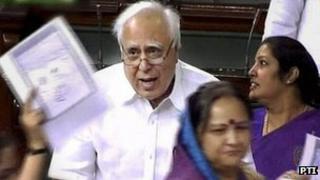 A row over a cartoon showing Dalit icon BR Ambedkar in a school textbook has disrupted India's parliament.
Opposition MPs said the cartoon was "disrespectful" to Ambedkar and forced several adjournments of both houses of parliament on Friday.
Education Minister Kapil Sibal later said the cartoon would be removed.
It shows former PM Jawaharlal Nehru holding a whip while standing behind Ambedkar, who sits on a snail, to speed up work on drafting the constitution.
The cartoon, by iconic Indian illustrator Shankar Pillai, first appeared in his magazine, Shankar's Weekly, in 1949.
BR Ambedkar, a contemporary of Mahatma Gandhi, authored and shaped the constitution for independent India.
"This is an insult on Indian democracy. The government should intervene and take strong action against those who are involved in this," Dalit politician and member of the Rajya Sabha [upper house] Mayawati told reporters outside parliament.
"If it fails to do so, we will wait for two to three days or else our party will not allow the House to run," she said.
Lok Janshakti Party chief Ram Vilas Paswan said it was "highly deplorable" to include the cartoon in a textbook.
Finance Minister Pranab Mukherjee said without Ambedkar's efforts, India's constitution could not have been framed within "a short time of three years".
Following the protest, Mr Sibal apologised for the cartoon and said it would be removed from the textbooks next year.
"I am willing to personally apologise for it [the cartoon] though I was not the minister at that time in 2006 [when the cartoon was included in the textbook]. I was not involved in the publication of the books," he told reporters outside parliament.