Indian police probe abuse at Rohtak shelter after rescue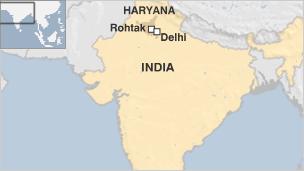 One of more than 90 children rescued from a shelter in the Indian town of Rohtak has filed a complaint saying she was forced into prostitution.
Police say they are trying to gather evidence in the case amid widespread claims of torture and sexual abuse.
On Wednesday night police raided the shelter run by an NGO in the northern Indian town after allegations of abuse.
The caretaker of the shelter, Jaswanti Devi, has been arrested. She appears to have made no public comment as yet.
Allegations of child abuse in such shelters are common across India and several cases have surfaced in the past.
The girl who has filed a complaint with the police alleges that she was forced into prostitution in Delhi.
Indeed this case came to light when three girls travelled to Delhi to file a complaint about their mistreatment, a senior Rohtak official told the BBC.
Police officials say that complaints made by children at the shelter include forced labour and physical assault.
"Some girls have been tortured, and hit in their private parts," senior police official, Vikas Sharma said.
Reports add that the girls were threatened in case they approached the police. There were reportedly a few older inmates as well in the shelter.
Related Internet Links
The BBC is not responsible for the content of external sites.