India inflation rate rises faster than expected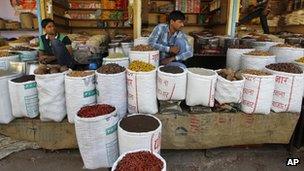 India's inflation rate rose more than expected in April, figures show.
The wholesale price index rose to 7.23% from 6.89% in March, driven by higher food and fuel prices.
Finance Minister Pranab Mukherjee said "food inflation is a matter of concern", and that measures would be taken to contain the problem.
The unexpected rise will make it hard for the Reserve Bank of India (RBI) to further cut interest rates to boost growth in the country.
Last month, the RBI cut its main interest rate for the first time in three years to 8% from 8.5% to overcome the slowdown in India's economy.
"Today's number underscores the point that the Reserve Bank of India has limited room to cut monetary policy rates because it highlights the risk that inflation poses," Leif Eskesen of HSBC in Singapore said.
February's rate was also revised up to 7.36% from 6.95%, according to the Indian government release.
The latest inflation figure is much higher than market expectations of a 6.7% year-on-year increase in April.
The data showed food prices rose 10.49% in April with the price of vegetables surging ahead at more than 60%.
Fuel and electricity inflation rose to 11.03% in April compared with 10.41% in the previous month.
India's inflation rate has dropped considerably since 2011, when it was above 9% for most of the year.
But it is still the highest among its Brics counterparts of Brazil, Russia, China and South Africa and cause for concern for the government.
Related Internet Links
The BBC is not responsible for the content of external sites.