India cricket board suspends five 'corrupt' IPL players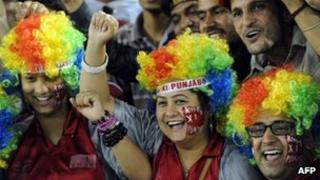 Indian cricket officials have suspended five players pending an inquiry into corruption allegations against them.
The move came after a sting by undercover TV reporters purported to show the Indian Premier League (IPL) cricketers agreeing to bowl no-balls and spot-fix matches.
The cricketers are also heard alleging that team owners often paid them large sums of money illegally.
One of the players has said the allegations against him are false.
He said he plans to sue the India TV channel, which broadcast the footage on Monday night.
The scandal is the latest to affect cricket. Last year three top Pakistani players were found guilty of involvement in a betting scam.
The decision to suspend the five Indian players - who are all uncapped and play for a variety of teams - was taken after the Board of Control for Cricket in India (BCCI) saw footage from the India TV "sting" operation.
"We have no tolerance towards any form of corruption," BCCI chief N Srinivasan said.
"We will ensure that the integrity of the game is protected. BCCI believes in the integrity of the game."
Former ICC anti-corruption chief Ravi Sawani will lead the inquiry into "the involvement of players in illegal activities or activities against the interests of the BCCI and the game", a statement said.
The fifth season of the IPL, which is considered to be the world's showcase for Twenty20 cricket, is currently under way in India.
Top Indian and international players take part, contributing to what is the world's richest cricket tournament.
But these allegations are the most serious to hit the popular tournament after IPL founder Lalit Modi was removed from all involvement in Indian cricket amid allegations of corruption and nepotism in 2010. He denied all allegations of wrongdoing.