India Open magazine stands by 'coup story' criticism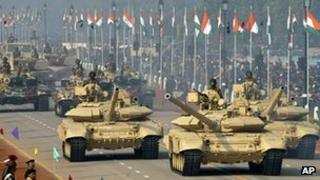 India's Open magazine, being sued for $90m by the Indian Express newspaper, has said it stands by its criticism of a recent story in the newspaper.
Last month, the Express reported that two key army units were moved towards Delhi in January without the government being informed.
Open had criticised the report saying it was The Mother of All Mistakes .
On Wednesday, the Express sent a legal notice to Open and senior journalist Vinod Mehta, seeking damages.
It accused the magazine of "harming the reputation of the daily, its editor-in-chief and three journalists".
The Indian government had denied the Express report as baseless and the army chief had called it "stupid".
"We are surprised by the notice and our lawyers will be responding soon," Open editor Manu Joseph told the BBC.
"Yes, we stand by our story titled 'The mother of all mistakes'," he said.
The Open report had said that the newspaper was "misled" into publishing the story.
Vinod Mehta, managing editor of the Outlook magazine, had given an interview to Open in which he had criticised the Express for publishing the story.
Strong denial
The front-page report had created quite a sensation in the government and media when it was published in April.
It said the unexpected movement of troops on the night of 16 January created confusion in the government and sparked fears of a coup.
The prime minister's office, the defence ministry and the army all denied the report, saying the units' movements were a "routine exercise".
The report appeared at a time when the Indian government and the army were involved in a series of disputes.
The Indian Express claimed the incident took place on the night of 16 January - the day army chief General VK Singh filed a case in the Supreme Court in an acrimonious row with the government over his age.
The movement caused considerable alarm and consternation in the government, it said.
In an effort to slow the units' movements, police were instructed to check all vehicles on the highways leading to Delhi.
The army told the newspaper that the units were engaged in a routine exercise to test their mobility in fog and did not need to warn the government in advance.
Several analysts said the report, coming at a time of tense relations between the government and the army, was "mischievous" and "should be thrown in the dustbin".