Bridging India's identity divide with a number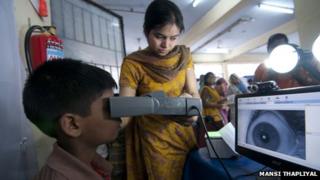 On a boiling afternoon in the city of Surat in Gujarat state, men and women are rolling into a cavernous hall in the local municipality building to sign up for India's most ambitious plan to give a definitive identity to millions of residents.
It takes all of 10 minutes for each person to have their details keyed into a laptop before they are photographed on a webcam and their fingerprints and iris are scanned in what is also the world's biggest biometric identity exercise.
Since it launched two years ago, 200 million Indians have already signed up to India's "unique identity" (UID) scheme.
By 2014, another 400 million people are expected to enrol to get a 12-digit unique identification number - also called Aadhaar or foundation - fulfilling the scheme's mandate to cover about half of India's people. The Economist magazine calls it an "astonishing outcome" in a country which struggles to meet its most fundamental challenges.
"I have no idea of how this will help me. I have heard that it will do us some good," says Neruben, a municipal sweeper, who is waiting for her turn in the municipality hall, which once served as a Mughal inn.
Faceless existence
Neruben earns 12,000 rupees ($218) a month and has a bank account, a voters' identity card and a Permanent Account Number (PAN) card from income tax authorities which helps in opening bank accounts and filing tax returns. Most Indians are not as fortunate as her.
Millions are bereft of what identity scheme chief Nandan Nilekani calls "any form of acknowledged existence", which essentially ends up depriving them of their rights and pushes them into a faceless existence.
Many have no birth certificates or school certificates. About 58% of the children born in India are registered at birth, according to Unicef. Of those who are registered, not all have birth certificates.
In one of the world's fastest growing economies, some 40% of people living in villages don't have bank accounts, the number rising to three-fifths of people living in the east and north-east of India. (It is another matter that more than 40% of India's earners have no savings.) One of the main reasons why they don't have a bank account is that they have no definitive proof of who they are.
Also, identity - when available - is fickle and dubious.
There are more than a dozen documents that are variously accepted as proof of identity - a 'ration card' that enables the poor to buy cheap food and cooking fuel, a voters card which enables people to cast their ballots, a driving licence and a PAN card are only some of them.
But most of these can be obtained in a thriving black market by using fake documents and paying a hefty bribe - a ration card can be purchased for up to 60,000 rupees ($1,095), and in some slums in Mumbai I visited recently, residents openly spoke about "buying" PAN cards for 600 rupees ($11), 10 times the official rate, through agents.
Identity is also not easily movable in India.
'Cycle of documentation'
Papers that people have in villages are often of no value when they move to cities in a country which is witnessing migration on a scale never seen before. So every time a villager travels to a city to work, he is faced with the problem of securing new identification, often by paying bribes.
There is also what project head Nandan Nilekani calls the chokehold of the "cycle of documentation" on people. "To get a driver's licence you need a ration card, to get a ration card you need a birth certificate [and so on]," he says.
The unique identity number aims to equip people with one unimpeachable, portable national identity aimed at helping the poor to access state welfare, open bank accounts and protect them from rampant police harassment. It promises to slash corruption in India's multi-billion dollar rural jobs guarantee scheme by paying salaries through bank accounts linked to the identity number. It will also help pay pensions and salaries, as well as enabling people to obtain cooking gas and mobile phone connections.
Financial inclusion, say enthusiasts for the scheme, is one of the major ways the identity number can change India.
When the majority of people living in India's 60,000 villages have their identity number, they will be able to open bank accounts and access their money without trudging for miles to reach the nearest branch and lose out on a day's wages. (More than 80,000 commercial bank branches across India cater to only 5% of the villages.) Bank representatives - usually local people - will keep some money and use nifty mobile micro-automated teller machines to make instant small deposits and withdrawals.
But biometric identity is a contentious issue all over the world, and the unique number has also raised a number of thorny questions.
Is it an invasion of privacy? Eminent economist Jean Dreze has called it a "national security project in the garb of a social policy initiative". Will the identity database be more reliable than the existing lists of beneficiaries for welfare schemes for the poor? Don't bet on it, says Dr Dreze.
The overwhelming concern is over the danger of restricting civil liberties by creating what one critic of the scheme has called the "infrastructure of authoritarianism".
Last year a parliamentary panel echoed similar sentiments about access and misuse of personal information, surveillance, profiling and securing of confidential information by the government. Authorities insist that there are enough safeguards to ensure the data is secure and protected.
'Something good'
The real problem may be that some have begun believing that the number can be used to track down wrong-doers.
"Why can't we use this database to detect criminals? It would be good if we could do so," Anilbhai Biscuitwala, a senior businessman in Surat from the Hindu nationalist BJP party, told me.
Surat is a city heaving with nearly five million people, half of them migrants working in the textile industry and diamond polishing factories. There is an undertow of resentment against many of the migrants, who are suspected to be illegal citizens from Bangladesh.
Again, are people who are signing up voluntarily for the number informed about it? Not many, it would seem.
Most I spoke to during my travels in Maharashtra and Gujarat said they had signed on because their friends, co-workers and family had done so, and because they were told "something good" would come of it.
But somebody like Sonu Yusuf Sheikh, 21, who lost his birth certificate when migrating from his village to a Mumbai slum in search of work, hopes that the unique number will change his life.
"I don't get work anywhere these days because I have no proof of identity and residence. I go for job interviews, but I am rejected because I don't have proof of identity.
"You are telling me about this number. Will it help me get a job?"