India presents white paper to check illegal money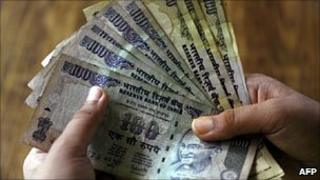 India's Finance Minister Pranab Mukerjee has proposed the setting up of fast-track courts to deal with the issue of illegal money and tax evaders.
Mr Mukerjee said the government had already brought five bills in the parliament to deal with the problem.
The minister presented a "white paper" on illegal money in the lower house.
It did not name any offenders or give any estimates for illegal money but earlier reports have said $500bn was deposited in overseas tax havens.
Outlining the various proposals to deal with the problem of black money, the minister suggested that anti-corruption ombudsmen be appointed at the central and state levels.
"While these measures will set the tone for an equitable, transparent and a more efficient economy, there is much that we could do, both individually and collectively, to strengthen the moral fibre of our society," Mr Mukerjee said.
In the past, officials have said that illegal funds were often sent to tax havens such as Mauritius, Switzerland, Lichtenstein and the British Virgin Islands among others.
Analysts say this flight of capital has helped widen inequality in India.
According to one estimate, India's underground economy accounts for 50% of the country's gross domestic product.
In recent months, India's Congress party-led government has been on the back foot on the issue of black money and corruption.
The Supreme Court has also chided the government for not doing enough to unearth illicit money.