India-Burma border caught up in a time warp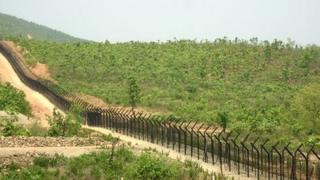 As Manmohan Singh begins a visit to Burma on 28 May, the first by an Indian prime minister in 25 years, the BBC's Sanjoy Majumder travels to Moreh on the India-Burma border to find a town frozen in time.
Moreh, in India's north-eastern state of Manipur, has all the trappings of a frontier town caught in a time warp.
A single, dusty lane snakes through the middle of the town, with rows of wooden shops, restaurants and houses lining either side.
Buddhist monks, Tamil traders, Burmese women with their faces smeared with sandalwood paste and Indian army soldiers saunter past in the searing midday heat.
At the end of the road, workers are busy constructing a ceremonial archway. Just beyond it is a barrier and then the large, shiny border gates with the Indian state emblem on them.
As they swing open at 07:00, traders, schoolchildren and villagers scramble through, crossing over to the other side. No papers are required as long as they are back before sundown.
'Porous border'
But like most things in Moreh and between India and Burma, this is just window-dressing.
Only a part of the border is fenced so even before the gates open, many others have already made the crossing, walking along dirt tracks, through fields and ditches in full view of the army.
"As you can see, this is a porous border," one Indian soldier tells me.
It is possibly the reason why, until recently, Moreh also had a wild reputation - as a major transit point for heroin and arms.
Efforts are on, however, to change all this.
Construction is on at full swing to widen the road leading away from the border and into India.
Eventually, the plan is for this to become India's major gateway into South East Asia.
Delhi is also developing ports inside Burma and there are plans for a rail link - as part of the trans-Asian network that will link South East Asia with Europe.
But there are clearly plenty of hurdles.
"Both sides of the border are poor and underdeveloped," says Sanjoy Hazarika, a leading expert on northeast India.
They are also awash with ethnic tribes who are often at conflict with the governments in Delhi and Nay Pyi Taw, part of the reason why the region is a hot-bed of insurgency.
The highway leading from Moreh to the Manipuri capital, Imphal, is dotted with army camps and military checkposts.
Strong links
"I make payments of several thousand rupees on each journey," complains one trader about the bribes he has to hand over to the police, soldiers and the insurgents.
But the strong historical, cultural and economic links that exist between the two sides of the border are also India's trading currency, as it hopes to gain goodwill and more from Burma.
As the border gates open every morning, groups of schoolchildren from Burma cross into India, standing out in their bright uniforms.
"They come here to study English," explains K Shamol Singh, headmaster at the Eastern Shine missionary school, one of several in Moreh with a sizeable number of Burmese students.
"They don't have good English-language schools in the Burmese countryside. The hope is that the language skills they acquire will help them get jobs in countries such as Thailand and Singapore."
It is another illustration of how easy it has been even for legitimate visitors to travel across the border.
Strategic jigsaw
But economics is only one part of the puzzle. India has strong political and strategic interests in Burma.
Until the 1990s, it was a strong supporter of the pro-democracy movement of Aung San Suu Kyi who studied in India and whose mother served as ambassador in Delhi.
Many Burmese students and activists fled to India after the military crackdown following the 1988 uprising.
Among them was Dr Thura, a political activist who is among an estimated 10,000 Burmese refugees in India.
"We were contacted by the Indian embassy and given money to go across," he tells me in the house he shares with four other Burmese families in the Manipuri town of Churachandpur, west of Moreh.
"We thought we'd get arms and training to take on the Burmese military. Instead, we were put inside a camp for the next three years and not allowed to move out."
Many Burmese exiles living in India like Dr Thura are bitter and feel let down by the world's largest democracy.
In the 1990s, as India realised China was gaining in influence in Burma, it switched tracks and began reaching out to the generals as part of its "Look East" policy.
But many are sceptical of whether it has achieved much or if its ambitions of using Burma as a foothold into South East Asia will ever be realised.