India strike over petrol price increase announced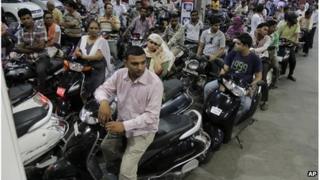 India's main opposition parties have announced a nationwide strike on 31 May to protest against a sharp increase in petrol prices.
State-run oil firms raised petrol prices by more than 11% or 7.54 rupees (13 cents) a litre, the steepest single increase in a decade.
The increase in fuel prices is likely to fuel inflation.
The oil firms said they were forced to increase prices because the falling rupee had made imports costlier.
On Thursday, the Indian currency fell to 56.4 rupees against the US dollar, from 55.82 on Wednesday. The slide comes amid concerns that slowing growth and a high rate of inflation may hurt India's economy.
"The decision has been taken, petrol is a deregulated commodity," Finance Minister Pranab Mukherjee was quoted as saying by the NDTV news channel before the increase in prices took place at midnight on Wednesday.
A spokesman for the main opposition National Democratic Alliance (NDA), led by the Bharatiya Janata Party (BJP), said it was talking to other parties to garner support for the strike.
"The government has washed its hands clean on price hike, but in reality, it happens only when the government wants it to happen. The government will also increase prices of diesel and cooking gas after the presidential elections get over," Sharad Yadav said.
BJP spokesman Prakash Javadekar said the price increase should be rolled back.
"We condemn the price hike. We won't allow it. A strong democratic agitation is on the cards," he said.
Mamata Banerjee, leader of the Trinamul Congress, an ally of the Congress-led government, said the price increase would be an "additional burden on people who are anyway reeling under price hikes".
"We are not pulling out of the government but that does not foreclose our options of protesting against such a hike, or the manner in which it is being brought about - in a unilateral manner," she said.
In 2010, the government allowed state-run oil firms to fix the price of petrol but it continues to control the prices of diesel, kerosene and cooking gas to protect the poor and to keep a check on inflation.