Charges against cricketer Luke Pomersbach withdrawn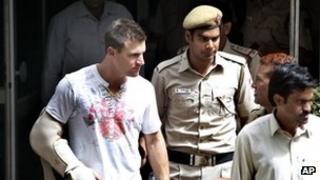 An American woman, who had accused an Australian cricketer of molesting her, has told an Indian court that she has settled the dispute out of court.
Zohal Hamid had also accused Luke Pomersbach, who plays for Bangalore in the Indian Premier League (IPL), of assaulting her fiance.
The cricketer was arrested last Friday, the day after the alleged incident at a Delhi hotel.
Pomersbach, who denies the charges, was released on bail by the court.
Ms Hamid's lawyer, Rajneesh Chopra, informed the Delhi High Court on Thursday that she wanted to retract her earlier complaint against the cricketer.
She said she would also drop legal proceedings against the Bangalore team director Siddharth Mallya for "casting aspersions on her character through tweets".
The court is expected to hear her petition on Friday.
Last week, police said the 27-year-old Royal Challengers Bangalore (RCB) player was accused of groping Ms Hamid after a post-match party in the five-star Hotel Maurya.
When her fiance intervened, he was punched by Pomersbach, they said.
Pomersbach insisted that he entered the room with Ms Hamid's consent.
Correspondents say the hugely lucrative but scandal-plagued IPL, which is in its fifth year, has hit the headlines for all the wrong reasons this year. Some commentators have called it the "Indian Problem League".