PM Singh to 'quit public life' if charges are proved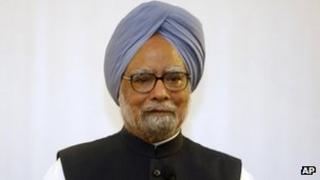 Indian PM Manmohan Singh has said he will "give up public life" if charges levelled against him by anti-corruption campaigners are proved to be true.
Campaigners say Mr Singh and 14 cabinet ministers should be investigated after a draft report by government auditors said India lost $210bn by selling coalfields too cheaply.
But the auditor has said the leaked draft is "exceedingly misleading".
India is one of the largest producers of coal in the world.
"It is unfortunate that irresponsible allegations relating to irregularities in allocation of coal blocks are being made without confirming facts," Mr Singh told reporters on his way back from an official visit to Burma.
"I will give up my public life if allegations are proved against me. My long public career as finance minister, as leader of opposition in the Rajya Sabha (upper house of the parliament) and now as prime minister has been an open book."
The allegations against Mr Singh and his ministers were made last week by campaigners linked to Anna Hazare, who has been demanding strong anti-corruption laws.
The leaked report said private and state companies benefited from coalfield allocations between 2004 and 2010.
But the auditor later said the details "being brought out were observations which are under discussion at a very preliminary stage".