The rise and rise of new Bollywood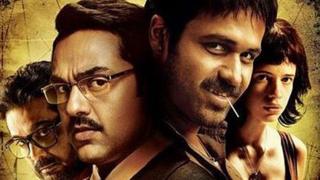 Colourful and often predictable, hit Bollywood movies tend to follow a formula for success. But a new crop of directors is challenging that convention.
A film about sperm donation and infertility, with unknown actors in the lead roles, is not what you would traditionally expect from Bollywood.
Vicky Donor, which is showing in Indian cinemas, is not a niche art house offering but a mainstream comedy, which has done brilliantly at the box office since it opened in April.
Even five years ago, the success and existence of such a film would have been very limited.
For decades, Bollywood cinema has stuck to a tried and tested formula - boy meets girl, parents object to the marriage, family is torn apart - a few fight scenes and dance routines later there is a happy ending.
The movies would usually star one or two big names, feature catchy songs and focus on broad themes such as good versus evil, or love against the odds.
Some directors have tried in the past to break this mould with limited audiences.
That a film like Vicky Donor has had mainstream success is testament to how much Bollywood has changed.
"I wouldn't have had the guts to make this film five years back," says Shoojit Sircar, director of Vicky Donor.
"Initially I was a little apprehensive because the subject of sperm donation is usually a very closed-door discussion and taboo in our society. A few years back I might have worried that families wouldn't watch it," he adds.
'Alternative films'
Families are being exposed to a wider choice of films thanks to the expansion of multiplex cinemas in India.
The change is also being driven by a crop of new directors who are turning the traditional film formula on its head, by casting unknown stars in lead roles, nurturing new writing talent and focusing on hard-hitting subjects.
With a running time of over five hours, Anurag Kashyap's forthcoming release, the two-part Gangs of Wasseypur is a Hindi film which bucks all the Bollywood conventions.
The dark gangland drama, which recently premiered at Cannes, has been compared with Tarantino-style movies.
"A lot of people used to say to me, 'that film won't work'," says Kashyap, who is at the vanguard of this change, having directed a number of "alternative" Bollywood films.
"A lot of films that we put our heart and soul into, people would say - it doesn't have a star, or it doesn't have this or that," says Kashyap.
Last year, he started a film-making collective, Phantom Films, to drum up support and money for independent Bollywood movies.
The big studios still dominate, but raising funds through new sources, including social media, have helped smaller film-makers and "it's no longer enough for a film studio to say no", says Kashyap.
Cheaper technology is giving people the ability to make films on lower budgets.
Being able to make a film on your own terms has allowed many up-and-coming directors to experiment with different storylines.
No longer does a Bollywood film need a hero, or villain, or a comedy skit.
Gritty stories
Recent box office successes have showcased grittier storylines reflecting Indian realities.
"What the main production houses are doing is making 'everyday' larger than life through film. They speak loud and they dress loud and they dance loud. What a growing number of film-makers are doing now is making quieter films," says Abhishek Chaubey, who directed the black comedy Ishqiya, another non-traditional Bollywood film.
Chaubey says more directors like him are setting stories in authentic locations and shying away from the old Bollywood mantra.
To this end, he does not think every film needs to include a song and dance routine.
"It's still blasphemy if you say your film is not going to have any songs, say that to a producer and they might start to have palpitations," he says.
As commercial success grows, getting funding for these films is getting easier, says director Dibakar Banerjee, whose new film Shanghai, a political thriller based on a Greek novel, releases on 8 June.
"We have individual investors, some older Indian studios that have really adapted to the new climate and new multinational studios in their Indian avatars - all wanting a share in the pie of the new Indian audience," says Banerjee.
"My films have had no precedents to go by, no A-list stars, but they have bucked the trend and I have found funding each time without me selling my car or house."
Another key challenge for the Indian market, says Neerja Narayanan, who heads creative development at Fox star studios which was behind Slumdog Millionaire, is that the lion's share of revenue is made through cinema sales.
This means independent films in India cannot rely as heavily on DVD and video on demand profits as they do in the US or other Western markets. So it's still about convincing more cinemas to show these films.
"While Bollywood is changing, the masses still prefer to see a big budget film, with big names," says Ms Narayanan.
"Films that have been most successful in 2012 are still the mainstream A-list starrers. Mainly comedies or action films which are larger than life and include a good music soundtrack. But studios like ours are balancing that by working on films with upcoming talent," she adds.