Aviation minister Ajit Singh: Air India to hire pilots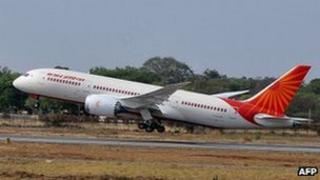 India's Aviation Minister Ajit Singh has said new pilots will be hired to take over from the striking pilots of the national carrier, Air India.
The minister also announced that the first international flight of the Boeing 787 Dreamliner plane would be in August from Mumbai to London.
More than 200 pilots have been on strike for 30 days in a dispute over training to fly the Dreamliner.
The airline has sacked 100 pilots since the start of the strike.
Mr Singh said the striking pilots were welcome to return but "they have decided not to come back and have ruled themselves out".
Tough stand
The new recruits would join the 90 pilots who were being trained to fly the Dreamliner and they would be ready to fly within the next six months, Mr Singh told a press conference on Wednesday.
"The strike is over as far as we are concerned," he said.
The minister said that the sacked pilots would have to reapply for their jobs if they wanted to come back and it was up to Air India management to decide if they wanted to sack more of the striking pilots.
Correspondents say the minister's comments show that the government's stand against the striking pilots has toughened and the authorities are in no mood to give in to their demands.
Meanwhile, hundreds of pilots marched through the streets of the capital, Delhi, and the western city of Mumbai on Wednesday to press for their demands.
The pilots have consistently refused to return to duty despite the Delhi High Court ruling the strike "illegal" and ordering the pilots to go back to work.
Air India is due to take possession of three new Dreamliners which will be flown at first within India to allow the pilots to get used to them, the minister said.
The pilots have been protesting against the decision to train pilots from Indian Airlines, which merged with Air India in 2007, to fly the new planes.
Air India pilots say that as the planes were ordered before the merger, they should be given priority for training.