Manmohan Singh and the politics of decency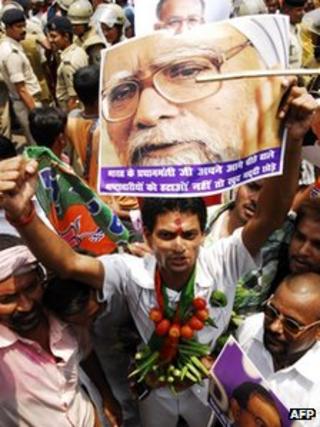 Not so long ago, Prime Minister Manmohan Singh was lauded for his calm demeanour and for practising a politics of decency and reconciliation.
His supporters would say that these qualities stood India in good stead: they cite the aftermath of the 2008 Mumbai attacks when Mr Singh refused to indulge in war mongering against Pakistan and ratchet up the tension.
Even his critics would concede that during his government's fruitful first term in office, the diarchy - the technocrat, politics-averse Mr Singh running the government and the dynast Sonia Gandhi running the party - looked like a smart arrangement.
Politics is a fickle business, and three years into the Congress-led government's second dismal term in office, Mr Singh's strengths - and the Delhi diarchy - appear to have become liabilities.
They are being blamed for what critics call a paralysis gripping Mr Singh's government, bogged down by charges of graft and inaction and saddled with an economy which seems to have stalled. "Mr Singh has plainly run out of steam," the Economist magazine says.
The latest salvo has come from ratings agency Standard & Poor's, which cut its outlook on India in April.
In an unexceptional report warning that India could be the first Bric nation to lose its investment grade status, the agency's economists say Mr Singh "often appears to have limited ability to influence his cabinet colleagues and proceed with the liberalisation policy he favours". It doesn't forget to remind that Mr Singh is an "unelected" prime minister who "lacks a political base of his own," and that political power is held by Mrs Gandhi who holds no cabinet position.
Last week, Mr Singh's former media advisor and journalist Harish Khare launched an unusual broadside against his former boss, hinting that the prime minister's innate decency may be a handicap. "Manmohan Singh is not corrupt, but he is definitely guilty," Mr Khare wrote in The Hindu newspaper. "He can be easily charged - along with his political partner Mrs Sonia Gandhi - of pursing a politics of decency and of elevating reconciliation to a matter of state policy."
'Cost of confrontation'
Mr Khare blames Mr Singh for not having the pluck to take on cunning civil society activists and rogue corporate interests who are trying to discredit his government; he also criticises him for not using his considerable intellectual heft to challenge government auditors who the government believes have exaggerated the revenue losses due to sale of telecom licences. "Manmohan Singh is guilty of pursuing the noble quest for reconciliation at the expense of another maxim of statecraft: those who spurn the public authority's hand of reconciliation must be made to learn the cost of confrontation," concludes Mr Khare.
Over the weekend, senior journalist Barkha Dutt bemoaned Mr Singh's "loss of personality", alluding to how the prime minister took on his government's key Communist allies during his first term while pushing ahead with the civilian nuclear deal with the US. "The PM's strongest trait - an indisputable personal decency - has now come to be conflated with his biggest weakness - a timidity of style that prevents robust decision-making. While even today his sharpest critics do not question the PM's personal integrity, decency is no longer acceptable as a substitute for inaction," she wrote.
The taciturn and inscrutable Mr Singh - an "antidote to the comedic stereotype of the brash and irate Sikh", as historian Patrick French once described him - hardly gives interviews. So we really don't know how he feels about being called a timid and overly decent man who avoids confrontation at the cost of credibility. We also don't know whether India's Deng Xiaoping has lost his appetite for economic reforms in the ongoing political battle between reformists and populists, which the latter are clearly winning.
But a rare interview by Mr Singh from 1996 may offer some clues to the problems facing the prime minister today. Reflecting on his years as the finance minister in PV Narasimha Rao's minority government, Mr Singh told journalist Vir Sanghvi that the liberalisation process he initiated in 1991 ground to a halt after "politics took over on December 6, 1992", the day Hindu fanatics demolished the Babri mosque. "After that it was just politics that was on everybody's mind. And an important matter like cutting the fiscal deficit did not receive much importance as it should have been."
India's politics is possibly looking as divisive and broken today. The most practical kind of politics is the politics of decency, Theodore Roosevelt once said. If the critics are to be believed, it isn't working in India these days. India needs temperate leaders, and most people believe Mr Singh is one. But temperate leaders needn't be weak.